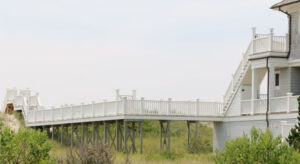 Vinyl Railing Versus Wooden Railing
Are you struggling to find a perfect railing for your home or deck? It is normal to be confused as there are several popular railing materials available in the market. Considering the railing material is not a small decision as it can affect not just the look of your home and its value too. The common choices are aluminum, wood, vinyl, metal, stainless steel, wrought iron and fiberglass railings. Of all the materials two most popular are vinyl railing and wooden railing. If you are confused which to choose, read below why most people choose vinyl railing over  wooden railing
There is one thing Durable
Do you know that vinyl railing is five times stronger than wooden railing and four times flexible? Also, with the vinyl fence, you will never have to worry about the decomposing, rusting, peeling, or blistering. Even after years, the vinyl railing will look beautiful, unlike wooden railing that begins to look shabby in just two or three years. Also, wooden railing will not be able to stand the harsh weather.
1: Low maintenance
Have less time for the railing maintenance? Then you must choose vinyl railing as you need not bother about its maintenance. As its color doesn't fade, it will stay the same for years to come. The only maintenance that it requires is a little cleaning using a soft cloth and mild soap solution or hose cleaning. While on the other hand, wooden railing requires regular maintenance regarding painting and staining to make them look good.
2: Style
Unlike wooden railing where there are limited options and styles, the vinyl railing is available in a range of styles. Right from sleek lines to classic styles you can quickly find the style that will accentuate the beauty of your home and that complements your lifestyle. We feature an extensive range of vinyl railing styles like solid colors, traditional trimmings, and many more. With our range of collection, you will surely be able to add drama to your colonial or cottage homes.
3: Affordable
The vinyl railing is quite cost-effective in comparison to the wooden railing as you need not replace it for years to come. Also, as it is easy and affordable to install and maintain, it brings the overall cost down. Wooden railings though are less expensive in comparison to vinyl railings but continuous maintenance, painting, and staining eats a lot of time and money.
4: Privacy
The privacy offered by vinyl railing is unmatched in comparison to the wooden railing. You can easily find the railing designs with a little or no space between the balusters  for the deck to ensure privacy. On the other hand, wooden railing fails to provide the needed privacy on the deck.
Check our range of vinyl fence as they are distinctive in style, versatile, maintenance free and sturdy. For over 20 years of experience our vinyl railings are National Building Code compliance. We also assure timely installation at pocket-friendly prices. Our vinyl railings are sure to stand the test of time transforms your yard or deck into an extraordinary place.